25.09.2022
Seamless quality of service.
16.09.2022
First and foremost, our bowling jersey's came out beautifully! I find the sizing options true to size with a little wiggle room (which is perfect when it comes to playing any athletics.) Our Home Health & Hospice agency sponsored the team, and the bosses and staff were also really impressed with how awesome the design came out! We are very pleased with our order and the impact it's had with helping to market our agency and giving the team a cool new look. Thanks for all of the help Owayo team! The only issue was the timeliness on replies - however, I think we have a huge time zone difference.
09.08.2022
Super easy ordering and excellent quality!
22.07.2022
Was looking for a unique gift for my husbands special birthday and this was perfect. Clear communication. Prompt e mail replies.
21.07.2022
This is the third time I've ordered, and have been happy with each order! Only negative for me was trying to find out how to enter multiple texts on the jersey
29.06.2022
The jerseys were high quality. Everyone liked them. The staff communicated well though the ordering, manufacturing and shipping process. If I had to make one suggestion, the shipping options and upsell options were not presented up front. Because I had to communicate pricing with each member of my team, I would have liked to know exactly what the upsells were in the begin of the process so I didn't have to change the "price" that I told to my team mates.
27.06.2022
Excellent customer service. I wanted to changed the colours of my chosn jersey once I saw what it looked like on the e mail confirm. This change was done easily and efficiently.
20.06.2022
This product absolutely exceeded my expectations! The design on the actual shirt looks just as good as online if not better, the fabrics are high quality, the mix of fabrics are perfect for MTB and the fit of shirt is perfect throughout the sizes I ordered. Service was fantastic! Replied quickly to all my emails, always nice and very helpful.
24.06.2022
Quality of the Material - The chamois is A+. docking a point because some of the seems could've used more attention Fit of product - overall fine. docking 2 points because sleeves are a bit short and the seems on the bib bump out and roll will extra material. Process of ordering - Ordering process was straight forward. docking a point because the login was always giving me a hard time and often put my into the wrong country's version of the site. Printing and coloring quality - overall it's fine, but just fine. this my have something to do we me never customizing a kit before, but the lettering in general was too small and not 100% on center/aligned. The seams around the edges also showed the underside in an inconsistent manner. The first item could be addressed by have a professional design make recommendations and pay closer attention to alignments before allowing the design to go through. Employee competence & knowledge - employees I spoke with were great, but again, someone should have assessed the design closer before approving. Waiting time for owayo response to enquiries - everything moved quickly Friendliness - no complaints Price to quality ratio - The price is that of a typical high end kit. What we get is a customized middle range kit. fair deal in general, but with the issues listed in other areas, this is a tad high. Ordering procedure - docked a point for reasons already mentioned (issues with login, and lack of designer suggestions)
Interested in more feedback and evaluations?!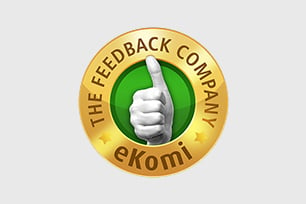 About eKomi
eKomi's goal is to track authentic customer reviews of various products. They offer a unique platform where consumers speak to one another based on personal experiences, and thus helping consumers identify reputable online businesses. We have been reviewed by eKomi since 2011 and have no influence on the ratings and feedback provided by our customers. Our customer feedback speaks for itself.